Pressing People / Subjected Matter

Dale Small in conversation with Andre Bradley


In the 2020 MFA Thesis publication
Take The Ship Apart
, recent Image Text Ithaca graduate Andre Bradley brings each of us to the words of Langston Hughes in
The Negro Speaks of Rivers
through his recent work
Where's Walter
. I had the absolute privilege to meet with Andre over Zoom last week, where we were able to speak about
Take The Ship Apart
,
the Shape of the College
, the future of iTi and the iTi Press, and the constantly changing landscape of the art world.
Dale Small: How did you start making art? Why do you make art?
Andre Bradley: I started making art in Ms. Jordan's class in 6th grade. I make art because I'm an artist.
DS: How do you define success as an artist? As a person? Are you there yet? What do you hope to accomplish? Who do you hope to inspire?
AB: Every five years, I set goals around what I want to accomplish based on my needs as a professional artist. The list of goals may include creating a book, being included in one national exhibition or two international exhibitions, or speaking publicly once or twice. The list may also include taking a break from showing/talking about my work. I often achieve more than I planned to, but I equate reaching my own goals as a success.

DS: What is a surprising realization you've had either about yourself or the works you have created?
AB: A surprising realization I've had about myself is that I often want to give up making but find it challenging to give up.

DS: When did you first hear about iTi? What was it about the program that pushed you to apply?
AB: I first heard about iTi in an email as a 2nd-year graduate student at the Rhode Island School of Design in an emailed opportunity to apply to be a junior fellow in the summer workshops that preceded the MFA program. First, I applied to the program because I wanted to extend my engagement with art after RISD. After a few years, I applied to the MFA program because of my experience and the people I met in 2015.
DS: What would you say to someone that may be considering iTi as part of their journey as an artist?
AB: I would tell them to apply and prepare for a memorable and rigorous three summers.
DS: What does your future as an artist look like?
AB: In my future as an artist, I am teaching art and making art. I've just begun my career as a professor.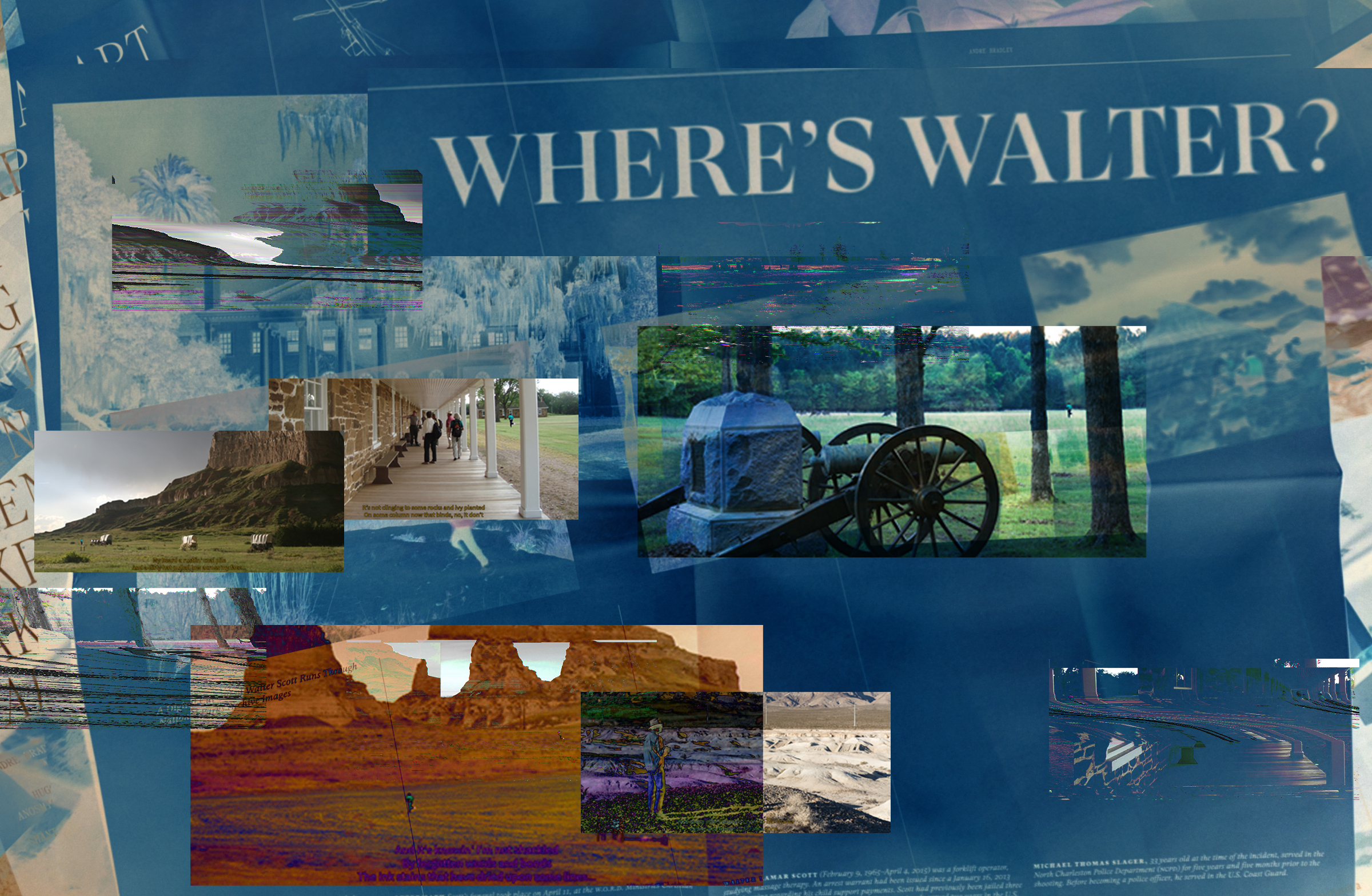 Like many of Andre Bradley's works, the viewer, the reader, is brought to these connected moments of time and experience centered around what it means to be Black and living in the United States. In
Where's Walter
, Andre compels us to engage with writings influenced by Hughes while also placing us in the position to view deeply carved wounds that run through sublime landscapes. These images are imposed to show the figure of Walter Scott; rather than running from the gun shots from police officer Michael Slager, Walter is repositioned into a world of his own, running through a field by a river in a blissful escape.
Andre writes,
"I've known the rivers too Langston, I've known rivers too. The way that experiences course in time, through my veins. I have been a river too." It is a possible reminder that there is no further need to speak on what's there because it is already present in us.
Andre follows by writing,
"This water drowns us all…In the water, one of us bathes. In the water, one of us builds, in the water, one of us looks. In the water one of us hears history's mocking laughter using our water against us. Using water hoses to extinguish our fire."
From speaking with Andre about
Take The Ship Apart
, it is made clear by him that this collaboration amongst the 2020 iTi graduates with curator Jo-ey Tang and designer Paul Soulellis was a challenge. He said that,
"To do all of this being outside of the context that we had grown accustomed to—being together in Ithaca every summer—not thinking about my thesis work everyday made it difficult."
Among the work/life differences for each of the graduates, there was always a clear intention to distinguish the writings and give scale to each artists' work in a thoughtful way, allowing for the eventual distinction to be made for key developmental attributes of the publication's form and presentation.
"In the case of the general form of it, I think something that I wrestled with throughout the process was its final form being on newsprint. I've wrestled with it for a couple of reasons, but one is me thinking that I just had a feeling that it wouldn't be as permanent as some of the other iTi publications."
Despite the matter of permanence, Andre said that Jo-ey and Paul brought the publication to its final form by thinking outside of the confines everyone was accustomed to. Ultimately the final form of
Take the Ship Apart
is one where each participant can hold their own space; this speaks deeply to how
Take the Ship Apart
positions itself as "a gesture(s) of communal de-centering, in the ebb and flow of alterity."
Where's Walter
envisions a world where Walter
could
escape, but does not.
Take The Ship Apart
offers an alternative form of viewing the intimate undercurrent of artwork and writing created over a three year period. In the 'art world', in the 'real' world, and our own worlds, I believe that
Take The Ship Apart
is not only emblematic of what has transpired but acts as a gateway for each of us to escape while also still being honest with ourselves.
Escaping isn't always a reality; the position of the graduate publication in relation to the ongoing financial and structural changes at Ithaca College which will have a deep effect on the future of the Image Text program and Image Text Press. As of January 13, in an article by Ithaca College titled
The Shape of the College
, several graduate programs have been given a recommendation of discontinuance in light of the economic consequences caused by the myriad of negligent responses to the COVID-19 pandemic. In the words of the College, this is a strategic plan to "determine and maintain an appropriate and sustainable size for our programs, structures and associated resources at every level of this institution." If the decision is made to discontinue the iTi program, current students will be able to graduate, meaning students who have applied for 2021 will not be accepted. As of February 24, the President and Provost of Ithaca finalized the decision to discontinue the Image Text Ithaca Low-Residency MFA program.
This decision by Ithaca College poses some larger questions and concerns shared by recent graduates, alumni, and current students alike. When speaking with Andre about this, it was more than apparent that his concerns run deep with the program, which he was involved with when it was a new press and symposium and not yet a graduate program.
"Given the opportunity to reflect today, there are great things that happened in the barn as well as in the program. And, I think that the iTi Press, despite whether or not the program is to continue, is always going to have clout. It will continue to flourish in my mind. That is possible because of the relationships that have been built outside of what Ithaca College can provide."
Image Text Ithaca is by far a unique thing among MFA programs not only in the United States but globally considering its ability to build an international community of artists, photographers, and writers. Through initiatives founded by Image Text Ithaca such as the iTi Press, the iTi Symposium, and yearly workshops this has been made possible. For Andre, he spoke passionately of the unique opportunity made possible by iTi. He said that,
"I attribute the publication of my work
Dark Archives
to iTi and see it as a personal achievement that I'm proud of because I've always wanted to share my personal story with the world."
A program as dynamic as iTi is has opened up a range of more accessible opportunities for individuals to experiment and learn collaboratively without the economic and social barriers often present in higher education. On this matter particularly Andre said that he has faced many challenges in getting his work into the public. The structure of iTi allowed for him to continue working both as an artist and as a professional while still pursuing higher education. The challenge facing Image Text with the financial and structural changes induced by Ithaca College are not in any way unique.
"The biggest challenge facing iTi is that it's such a young program and has many lessons to learn related to its model's structure and sustainability."
I think by now, in 2021, we all know the past few years have been far from easy, and 2020 amassed an entire cultural, economic, and social shift. These changes that may be approaching the iTi program, and by association the iTi Press, put all of us into a place of uncertainty. These issues of funding in an academic institution pair in many ways to the financial and structural issues facing many artistic institutions like museums and galleries. In many cases it seems as if the acceleration effect caused by the adverse consequences of COVID-19 and the election year have exposed the pitfalls in not only higher education but society at-large. Since we are speaking on subject matter and the artists that create it is only fair to contextualize a reality for many of us pursuing academic art careers or striving to work professionally as artists. And, if the signs haven't been clear where the administrative evaluations stand on the matter of art and their creators, now it should be more obvious than ever what is at stake.
Access to higher education, especially higher education in the arts, often comes with a level of barriers and bridges to cross to even gain access to these types of privileged spaces. In the case of Ithaca College, access to any of their arts graduate programs bear the cost of $50,000 on the lowend, not to mention the entire academic career students endure to make into graduate level programs. In the case of iTi, we have a diverse program with a rich but short history that has managed to thrive during a global pandemic. As a low residency program it was built unknowingly for this type of situation, not with that purpose, but rather to build and grow an international community of artists, writers, and photographers.
We are in a pivot position whether or not it's what we hope for. In terms of access, Image Text has done all it can in order to provide access to its growing community of creators through the program and through the press. When I asked Andre what he thinks the future of iTi looks like he said that,
"In the future, I see iTi as an endowed program with support from multiple institutions. It's a program that has generated an incredible interdisciplinary and international community."
I know that the future is uncertain, but after meeting Andre and hearing his insightful words I am left feeling hopeful and inspired for the future of Image Text Ithaca and the program, the press, and most importantly the community that has been built. Thank you.
Andre Bradley lives and works in Philadelphia, PA. He is a graduate of Ithaca College (MFA 2020) the Maryland Institute College of Art (MFA 2020) and the Rhode Island School of Design (MFA 2015). During his studies at the Maryland Institute College of Art, Bradley was named a George Ciscle Scholar in Curatorial Practice, and during his studies at the Rhode Island School of Design, Bradley was named a president's scholar and a recipient of the T.C. Colley Award for Photographic Excellence, which ultimately led to his work becoming part of the permanent collection at the RISD Museum of Art. His book Dark Archives was shortlisted for the Photo-Text Book Award at Les Recontres De La Photographie and the Paris Photo-Aperture Foundation First PhotoBook Award, both in 2016. He has been a fellow at the Arc Baltimore, Image Text Ithaca, and the Philadelphia Photo Arts Center.

Dale Small is a queer interdisciplinary artist, designer, photographer, organizer, and writer based in Wichita, Kansas.